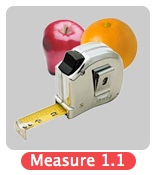 Licensing Options
A Single-User license costs US$25 and permits you to use Measure on one computer at a time.


A Site License costs US$500 and covers all locations for your organization within a 160 kilometer radius of your site (100 miles). With a Site License, you don't need to keep track of how many people at your site are using Measure.


How to Buy Measure
Kagi accepts a variety of currencies and payment methods.


---
Measure home